As a school we a pleased to be able to offer hot and cold meals, which are provided by our partnership with Educaterers.
Dining Experience
The principle idea behind our lunch time offer is that children have an opportunity to spend their lunchtime relaxing with their friends whilst enjoying their preferred choice from our school menu or their own packed lunch.
The hall offers a calm space for children to sit and eat their lunch. The facilities and dining experience aims to develop children's social skills and independence, by offering a more formal experience (plates, bowls, cutlery rather than traditional 'all-in-one' trays).
Food Options
Children at Abbots Farm can choose from bringing in a packed lunch or choosing from our lunchtime menu. There are a variety of hot and cold options available on a daily basis. The menu is available below:
School meals menu from September 2022
Payment for Lunches
Lunches are paid for in advance. Payments can be made online or via cash in the office. The current cost for a pupil lunch is £2.25.
For those families in receipt of free school meals, there is no charge for lunches.
Free School Meals
Free school meals are available to some children according to family income. Some children are entitled to Free School Meals if their parents, carers or guardians receive:
• Income Support; or
• Job Seeker's Allowance (Income-Based); or
• State Pension Credit (Guarantee Credit); or
• Employment and Support Allowance (Income-Related); or
• Support under Part VI of the Immigration and Asylum Act 1999; or
• Child Tax Credit, as long as parents / carers do not receive Working Tax Credit and they have an annual taxable income as assessed by Her Majesty's Revenue and Customs which does not exceed £16,190; or
• If they are entitled to a Working Tax Credit Run On for four weeks after stopping work or reducing working hours to less than 16 hours per week.
---
 To find out if your child qualifies for free school meals, you should:
• Call Warwickshire 01926 742060 or http://www.warwickshire.gov.uk/freeschoolmeals
• Call HMRC Tax Credit helpline (0845 300 3900) or 
• Contact Turn2Us http://www.turn2us.org.uk – a charitable service that helps people access the money available to them – through welfare benefits, grants and other help.
If you have any general questions about free school meals, please ask us at the Office.
---
Nut Free School!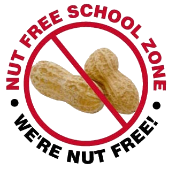 We are a nut free school! Please check that your child is not bringing nuts or items containing nuts into school in packed lunches or snacks.
Packed Lunches
Alternatively, children may bring a packed lunch. This should be in a secure named container. A drink should be provided in a non-breakable container. Packed lunches are eaten in the main hall. No sweets or fizzy drinks are allowed – instead, we encourage lots of fruit, vegetables and water.
Breaktime Snacks
If they wish, your child may bring in a break time snack.
As a school that promotes healthy eating we have decided the following snacks are acceptable:
a piece of fruit/vegetable,
raisins or other dried fruits.
If providing grapes, please chop them in half (long ways) and place in a small container.
Snacks we consider unhealthy and therefore not acceptable at school are:
chocolate
crisps
chocolate covered fruit
cereal bars
fruit snacks with excess sugar