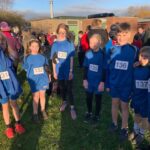 Recently, Chloe K, Amy, Eloise, Freya G, Teilo, Riley and Joel went to Binley Woods School to run in the first of 3 neighbourhood cross country trials – their first opportunity to represent the school in this event.
The children tried their absolute best and just kept going, showing our school values of 'resilience' and 'health body and mind'. They also showed real team spirit in supporting and encouraging each other.
A really positive first race for them all and we look forward to hearing about the results and seeing how they get on next time at Hart Field.